Our Story
Sarj hair & body is a boutique hair and beauty therapy salon located in the idyllic semi rural village of Tallebudgera on the Gold Coast. The team at Sarj provide exceptional customer service, which comes naturally with many years dedicated to the industry and a passion for our craft.
Our Passionate Team
Our team consists of a master stylist, senior stylist, makeup artist and cosmetic nurse. We are a friendly team of 4 who are ready to welcome you and meet all your hair and beauty needs.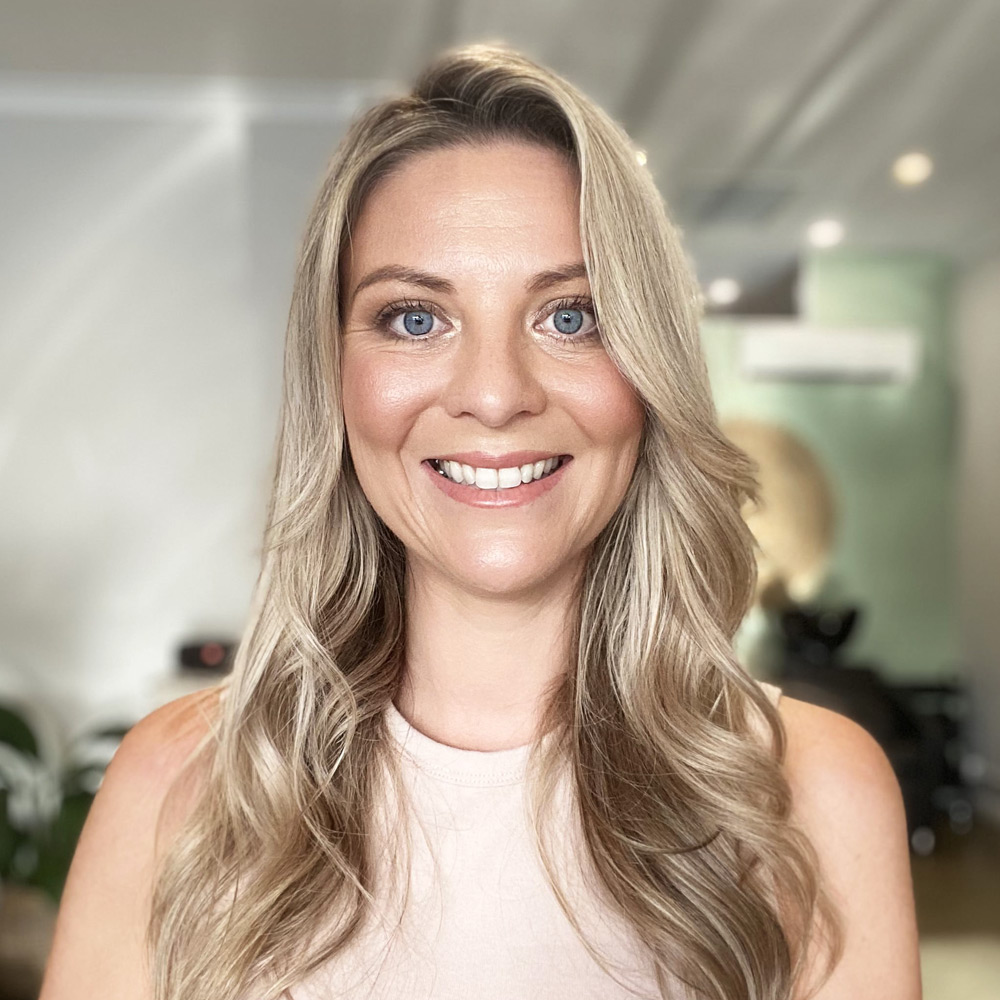 Jess
Master Stylist & Owner/Operator
A born and bred Gold Coast Lady, Jess is a Master Stylist with 17 years experience. Jess is organised, focused and productive, all the attributes that led her to establishing her own business 6 years ago... Jess is passionate when it comes to delivering an exceptional quality of service to the local people and surrounding suburbs of her Tallebudgera salon. A complete salon service for her clients, of colour, cut & style, is what Jess enjoys most. Extensive colour training with Wella, Davines & Pure has also encouraged a love for colour work and the chemistry behind it all. Jess always insures her clients are well attended to whilst in her care and she prides herself on the rapport she has built with many clients over the years. "Health, well being, self care and presentation has always been very important to me. I quickly learnt in my teens how styling my hair not only made me look but more importantly how it made me 'FEEL'. It gave me a sense of confidence to make the most of my day and to strive to be the best version of myself. This mindset has been at the forefront of my work throughout my career and is something that I hope pass onto all who visit my salon"
Erin
Senior Stylist
Erin has recently completed a certificate III in hairdressing whilst attending a private training college here on the gold coast. This now places her, in our salon, at the beginning of her hairdressing career as a senior stylist.... Erin has an ambitious attitude and is most focused on personal and professional growth within the salon to achieve her goal as an accomplished hairdresser. Erin most enjoys creating natural, lived in looks with a range of colouring and cutting techniques particularly in long length hair. With a genuine care and passion for her clients hair, Erin guides her clients through home hair care routines aswell as styling as part of the experience she offers her clients here at Sarj.
Jenn
Make Up Artist
Jenn is an accomplished make-up artist who has been a part of this dynamic industry for over 20 years. Originating in Baltimore, Maryland USA Jenn began her career studying at the Von Lee International school of Aesthetics.... Jenn has worked with many make up brands and specialises in beauty and fashion. Her expertise has led her all over the united states and internationally. Key artist for Venexiana 2009 fashion week in NYC and Christian Siriano's 'Pink Rocks the Runway' are just a couple of her professional achievements. She has had the privilege of working with celebrities, high profile personalities and Olympic athletes. Now located on the gold coast with her family, Jenn has been involved in many photo shoots for local companies and businesses with her work featured in magazines, commercials and videos. We have the pleasure of having Jenn apart of our team at Sarj, offering a beautiful service to our clients for event makeup. She loves nothing more than making her clients look and feel amazing! Jenn's work is detailed, individual and elegant. She uses high quality products and delivers a professional service.
Belinda
Injectable Nurse
Belinda is a born and bred Gold Coast Lady. However, having lived all over Australia from rural regions to cities, she says the Gold Coast has always drawn her back. Belinda is a Registered Nurse with further training in cosmetic injectables.... Belinda's professional back ground is a collation of accounts, customer service, youth work, drug and alcohol, mental health and general practice. Her work is her passion. We are privileged to have Belinda as a part of our team. We value her kind personality, her professionalism and her natural approach. Belinda provides a free consultation which is extremely important and really listens to your concerns, which is where she can help as a professional clinician to decide the best options available. You're in the best hands with Belinda!

'Cosmetic Aesthetics means to me: naturally enhancing features of one's facial anatomy to prevent the appearance of fine lines and wrinkles or eliminates those lines and wrinkles and to provide volume to areas that have lost volume due to the ageing process. I believe if you look good, you feel good and I love to help people maintain their uniqueness'. -Belinda